Instant hedges by species
Kei-apple
Duranta
Bourganvillea
Instant Hedges
Asepsis Limited is the number one instant hedges provider in Africa. We provide ready hedges that can be installed in a matter of minutes and hours. We stock various species and sizes of hedges to suit various requirements. Contact us now on +254792764947 for ready hedges.
Benefits of Instant Hedges
The main advantage of an instant hedge is the ability to have your hedge as soon as you decide. You save time because you do not wait for the hedge to grow and mesh. Newly planted hedges face many risks such as lack of water, damage by livestock, vandalism and non uniform growth among other problems.
Our instant hedges enables enable the  following;
Enhanced security by acting as barriers to intruders
Improved privacy of homes, offices and other facilities
Architectural hedges to define spaces and add to the overall appeal of a landscape
Reduction of noise
Reduction of dust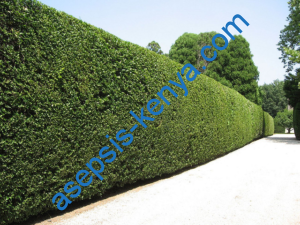 Instant Hedge species
Several species are preferred for hedging. These include Kei-apple, Bourganvillea, Duranta, Bamboo and Cypress.
Kei-apple is makes an excellent intruder-proof hedge because of its thick growing habit and thorns. It is thus preferred as a perimeter hedge where security ins important.
Bourganvillea is a colourful plant the provides an excellent hedge. It can be used as a perimeter hedge or to defines spaces in a compound. Contact us for colourful bourganvillea hedges for your home, office or any other facility. We will be happy to supply at your convenience.
Duranta hedges are versatile and have colourful foliages. Many varieties exist such as golden duranta, plastic duranta and variegated duranta. Some of them have thorns. Their thick growth enables  this hedge to be shaped into many forms. This hedge can be cut very low or allowed to grow high depending on one's preference.
Bamboo forms a very good screen and this can be used in hotels and restaurants. Bamboo screens give a sense of privacy and is very appealing in restaurant, hotels and home environments. There are many bamboo varieties and the choice of which variety to use is determined by the type and height of hedge required as well as the thickness required.