Micropropagation, also referred to as tissue culture, is growing plants in a sterile medium and sterile conditions.
As an industry leader in micropropagation, we have invested in superior biotechnologies that allow us to culture plant tissue efficiently and effectively. We are able to undertake these activities at our in-house plant tissue culture laboratory that is certified by Kephis.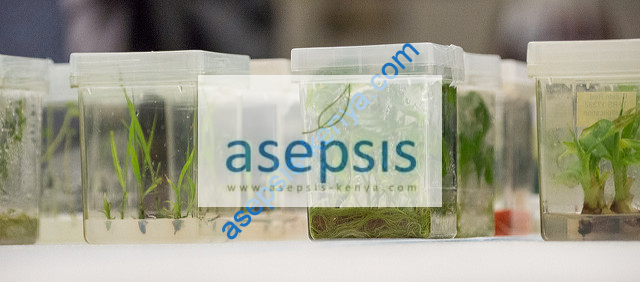 Below is a catalogue of our products yielded from our labs.
| Crop | Variety |
| --- | --- |
| Banana | G9 |
| Banana | Williams |
| Banana | Giant |
| Banana | Uganda Green |
| Banana | 1/2 Ng'ombe |
| Banana | FHIA17 |
| | |
| Sweet Potato | Kenspot 1 |
| Sweet Potato | Kenspot 2 |
| Sweet Potato | Kenspot 3 |
| Sweet Potato | Kenspot 4 |
| Sweet Potato | Kenspot 5 |
| Sweet Potato | Vita |
| Sweet Potato | Kabonde |
| | |
| Passion Fruit | ES 11 |
| Passion Fruit | ES 19 |
| Passion Fruit | ES 20 |
| Passion Fruit | ES 21 |
| Passion Fruit | ES 25 |
| Passion Fruit | Edulis |
| Passion Fruit | Local Yellow |
| | |
| Pineapple | K152 |
| Pineapple | K156 |
| | |
| Berries | Raspberry |
| Berries | Black Berry |
| Berries | Strawberry |
| | |
| Kiwi | Kiwi from seeds |
| Kiwi | Tomuri (male) |
| Kiwi | Hayward (female) |
| | |
| Pumpkin | pumpkin |
| | |
| Limonium | Perezi |
| | |
| Herbs | Dill Common |
| Herbs | Coriander |
| Herbs | Parsley |
| Herbs | Thyme |
| Herbs | Basil |
| Herbs | French Teragon |
| Herbs | Mint |
| Herbs | Giant Ginger |
| Herbs | Chilli |
| | |
| Anthurium | Anthurium |
| Landscaping | Heart of Jesus |
| Landscaping | Rascus |
| Landscaping | Giant Calla Lily |
| Landscaping | Money Plant |
| | |
| Orchids | Shell Pearl Panasse 1 |
| Orchids | Shell Pearl Panasse 2 |
| Orchids | Excaliber Galahad |
| | |
| Yucca | Dazzler |
| Yucca | Cordyline Compacto Purple |
You can learn more about our micropropagation projects at http://asepsis-kenya.com/plant-tissue-culture-kenya.html